4 Boys 2 Girls Born Feb 27, 2015
BRAERWOOD NIGHTMARE ON ELM STREET "KRUEGER"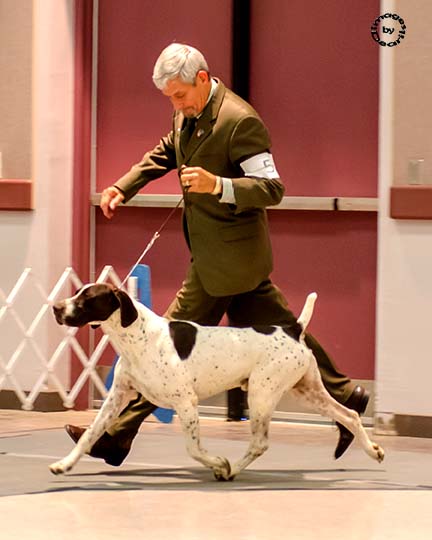 Krueger is a very sweet dog.  Loves kids, gets along with other dogs and cats.
He is the best all around GSP.


OFA Excellent , Elbows Normal, Eyes Clear, Heart Clear, CD (Tested) Clear, LD Non Carrier
CH BRAERWOOD HOT TO TROT  "LIL BIT"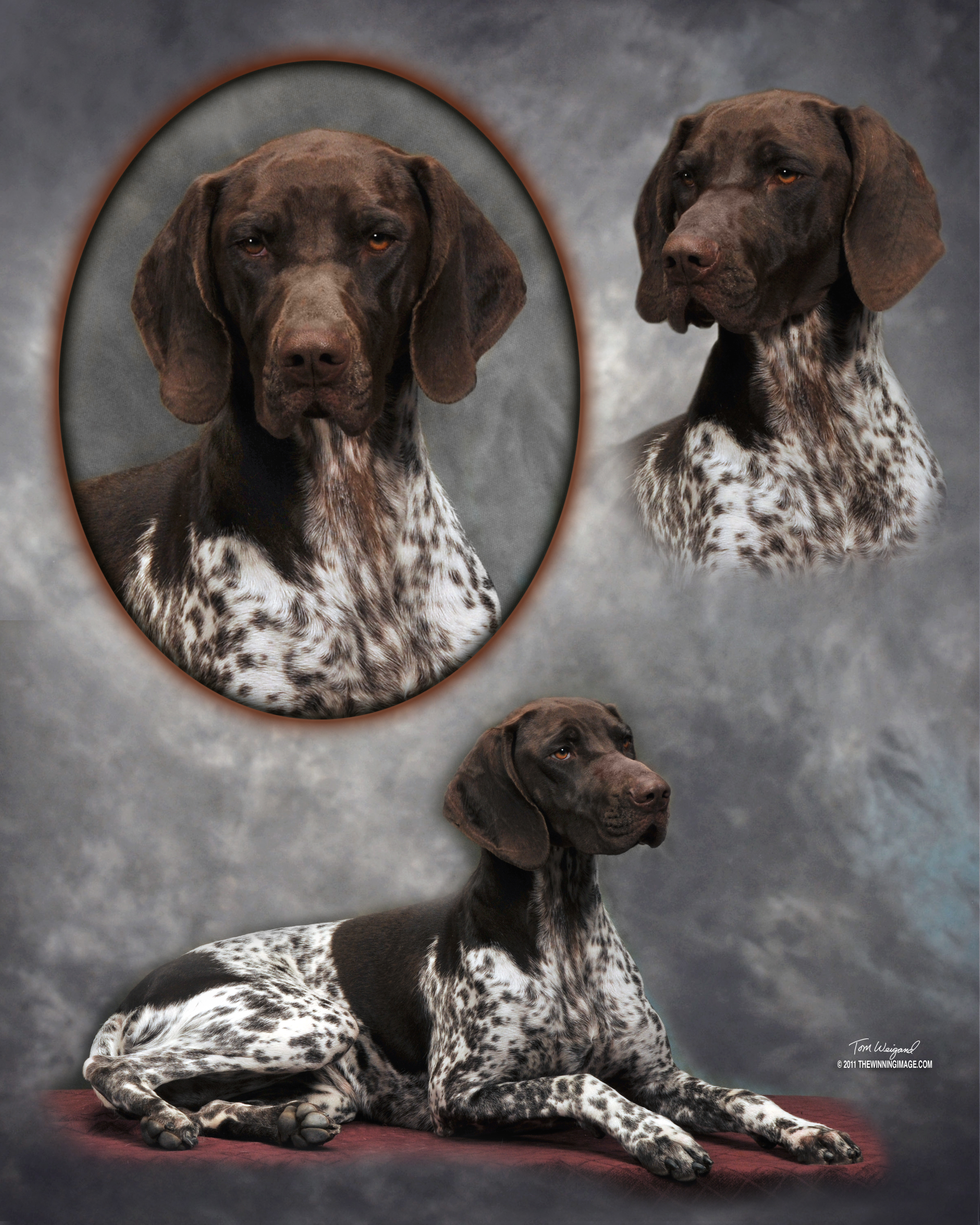 Lil Bit is very sweet lovable dog.  Loves kids, loves people.
Has a great nose.  Loves to track.

CD Non Carrier
LD Non Carrier
Hips Good
Elbows Normal
Heart and Eyes clear
OFA# GSP7232G25M Ranked consistently in the the top 20-shown on a limited basis. Multiple Sporting Group Wins

2005/10/13

CD clear through parentage ~OFA Cardiac GSP-CA740/17F/C-NOPI CERF GSP-1730N/2007-18 Hips~Good DNA Number: AKC DNA #V407550

AKC SN741058/11 OFA Cardiac Normal GSP-CA317/42M/C-PI-E CERF Normal GSP-1248 OFA Hips Good GSP-10606G42M-PI CD Normal Optigen Accession # 04-4245 Thyroid Normal (Private Lab) 2004 GSPCA Nationals AOM

Delceg was hip (OFA Good), eye (CERF'd annually), heart (OFA Cardiac) and CD (Optigen tested) and EBJ clear.

Int Hungarian Finnish World CH Malomkozi Saba

best in show and multi group winning NSC Winner from the Veterans Class

2006/9/29

CD Clear by Parentage, OFA Good DNA Number: AKC DNA #V454360

AKC SN741058/11 OFA Cardiac Normal GSP-CA317/42M/C-PI-E CERF Normal GSP-1248 OFA Hips Good GSP-10606G42M-PI CD Normal Optigen Accession # 04-4245 Thyroid Normal (Private Lab) 2004 GSPCA Nationals AOM

2004 GSPCA Nationals Best In Futurity AKC REG. # SR05749105 CERF GSP-1412/2005-24 DNA #V301866 OFA Hips GSP-12216G25F-PI Thyroid Normal - OFA Cardiac GSP-CA617/25F/P-PI Normal, CD clear through parents via Optigen.

OFA# GSP7232G25M Ranked consistently in the the top 20-shown on a limited basis. Multiple Sporting Group Wins

2008/2/15

Show Pointed CD Clear by Parentage Eye Cerf GSP-2133/2009-19 Heart Cerf clear OFA Number: OFA26E DNA Number: AKC DNA #V581794

GSP-10103G25M-NOPI CERF-GSP-1162 GSP-EL766M68-PI GSP-TH163/68M-PI GSP-CA681/68M/P-PI Optigen CD Clear -Non-Carrier~ Accession # 07-4769

2005/10/13

CD clear through parentage ~OFA Cardiac GSP-CA740/17F/C-NOPI CERF GSP-1730N/2007-18 Hips~Good DNA Number: AKC DNA #V407550

AKC SN741058/11 OFA Cardiac Normal GSP-CA317/42M/C-PI-E CERF Normal GSP-1248 OFA Hips Good GSP-10606G42M-PI CD Normal Optigen Accession # 04-4245 Thyroid Normal (Private Lab) 2004 GSPCA Nationals AOM
You are visitor number: 168599